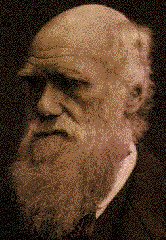 DARWIN, Charles Robert (1809-82), British scientist, who laid the foundation of modern evolutionary theory with his concept of the development of all forms of life through the slow-working process of natural selection. His work was a major influence on the life and earth sciences and on modern thought in general.
Born in Shrewsbury, Shropshire, England, on Feb. 12, 1809, Darwin was the fifth child of a wealthy and sophisticated English family. His maternal grandfather was the successful china and pottery entrepreneur Josiah Wedgwood; his paternal grandfather was the well-known 18th-century physician and savant Erasmus Darwin. After graduating from the elite school at Shrewsbury in 1825, young Darwin went to the University of Edinburgh to study medicine. In 1827 he dropped out...
Continue reading Charles Darwin's Biography.
Charles Darwin Books
On the Origin of Species 1859
The Origin of Species by means of Natural Selection
Coral Reefs
The Formation of Vegetable Mould Through the Action of Worms
Insectivorous Plants
More Letters of Charles Darwin Volume I
More Letters of Charles Darwin Volume II
Observations Geologiques sur les Iles Volcaniques
South American Geology
The Autobiography of Charles Darwin
The Descent of Man 1871
The Different Forms of Flowers on Plants of the Same Species
The Effects of Cross and Self-Fertilisation in the Vegetable Kingdom
The Expression of Emotion in Man and Animals 1872
The Life and Letters of Charles Darwin, Volume I
The Life and Letters of Charles Darwin, Volume II
The Movements and Habits of Climbing Plants
The Power of Movement in Plants
The Voyage of the Beagle
The Variation of Animals and Plants Under Domestication V1 1868
The Variation of Animals and Plants Under Domestication V2 1868
Volcanic Islands